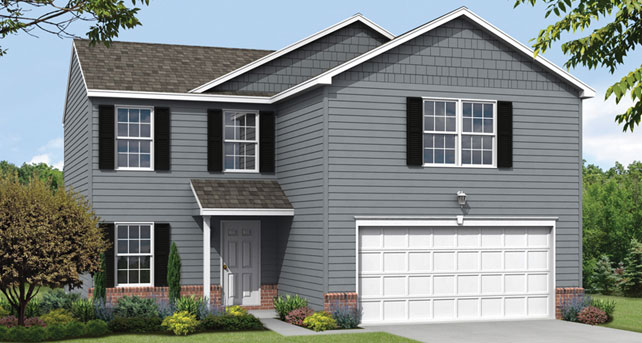 What's Included When You Build With Wayne: Exterior Features
In the first part of this series on exterior features, we covered the latest in current exterior trends for new homes. In this blog post, we'll detail some of the most popular features from the wide range of standard exterior features that Wayne Homes offers. These features are not only on-trend, but they also add convenience, protection and help your new home reflect your lifestyle.
A New Standard
Wayne Homes has raised the bar, creating a new standard of excellence when it comes to what you get when you're building a new home. You'll see that our "standard" is far from the norm. From energy-saving window options to best-in-class shingles that deliver peace of mind, our exteriors are designed to provide the high-quality features the modern homebuyer wants.
Energy-Saving, High-Quality Windows
The Wayne Homes Lifestyle Collection features Silver Line® by Andersen Windows, Inc., offering the energy-saving, high-quality windows you want in your home. The Signature Collection of homes feature Pella® windows, known for their high standards and long-standing commitment to green practices. Both lines of windows offer superior quality and a broad range of shapes, sizes and styles that can be fully customized to complement your new home.
CertainTeed Shingles
CertainTeed shingles come with a 25-year warranty for the Lifestyle Collection and CertainTeed Dimensional shingles with a lifetime warranty for the Signature Collection of Wayne Homes. With a wide variety of colors and styles to choose from, all with the same level of style, performance and sustainability advances the CertainTeed name is synonymous with. Dimensional shingles are a twist on regular asphalt shingles. Normally, there are three regularly spaced asphalt tabs, giving your roof a repetitive pattern. In contrast, dimensional shingles have two layers of shingle material bonded together, creating a three-dimensional appearance. No matter which style you choose, you can rest assured your CertainTeed shingles will provide long-lasting beauty and charm to your home.
Wayne Dalton Insulated Garage Door
Open up to a whole new home with a door from the leading brand in the garage door industry: Wayne Dalton. Selected by homebuyers for its strength, durability and design, Wayne Dalton's steel garage door models have polyurethane foamed-in-place insulation. Each door in their collection is attractive and thermally efficient, with the style to complement the look of your Wayne Home. Extending the curb appeal of your new home is easy with a range of customizable options, including color, hardware and window style. Offering safety, beauty and the durability of steel, Wayne Dalton garage doors are a significant upgrade from the garage doors found on most existing homes and an appealing way to add insulation and personality when building a new home.
Alside® Vinyl Siding
Vinyl siding provides the classic look of wood siding without the maintenance associated with it. Vinyl siding is made of polyvinyl chloride, which is a durable, proven material that has earned a reputation for its good looks and permanence. A smart choice for today's homebuyers, vinyl siding is an ideal exterior material because it doesn't rot, crack, dent or warp. You'll never have to sand, scrape or paint your siding. All your maintenance-free Alside® vinyl siding requires is a quick rinse with a garden hose from time to time, particularly in the areas that aren't directly exposed to rain. There are plenty of different ways to customize an exterior using vinyl siding. A few of the options include shake siding, wider panel siding, vertical siding, stone and trim options to add variety and much more.
Exterior Sliding Doors
Providing the same high quality of your windows, exterior sliding doors bring the outdoors inside while maintaining energy efficiency. The Lifestyle Collection of homes feature Silver Line® by Andersen and the Signature Collection offers Pella® sliding doors. These state-of-the-art exterior sliding doors require less floor space than swinging doors, so you can place furniture nearby and enjoy these great sources of natural light. Custom shapes, sizes, grille patterns, exterior colors are just some of the ways you can customize these sliding doors to fit your individual style.
A New Standard of Living Can Be Yours
Start building a new home with Wayne Homes and experience the new standard in homebuilding. You'll get all of these standard features and more! The best part? We offer one of the industry's best warranties, with two full years of coverage in our "Fit and Finish" warranty—every aspect of your home is guaranteed. Pair that with a 10-year Structural Warranty, and you have the peace of mind you need and the home you want. While exterior features comprise just a portion of your wish list, you can explore all Wayne Homes has to offer by calling us at (866) 253-6807 or viewing our portfolio of 40 gorgeous floorplans.
About Wayne Homes
Wayne Homes is a custom homebuilder in Ohio, Pennsylvania, Indiana, Michigan, and West Virginia (see all Model Home Centers). We offer 40 fully customizable floorplans and a team dedicated to providing the best experience in the home building industry. For more information, Ask Julie by Live Chat or call us at (866) 253-6807.