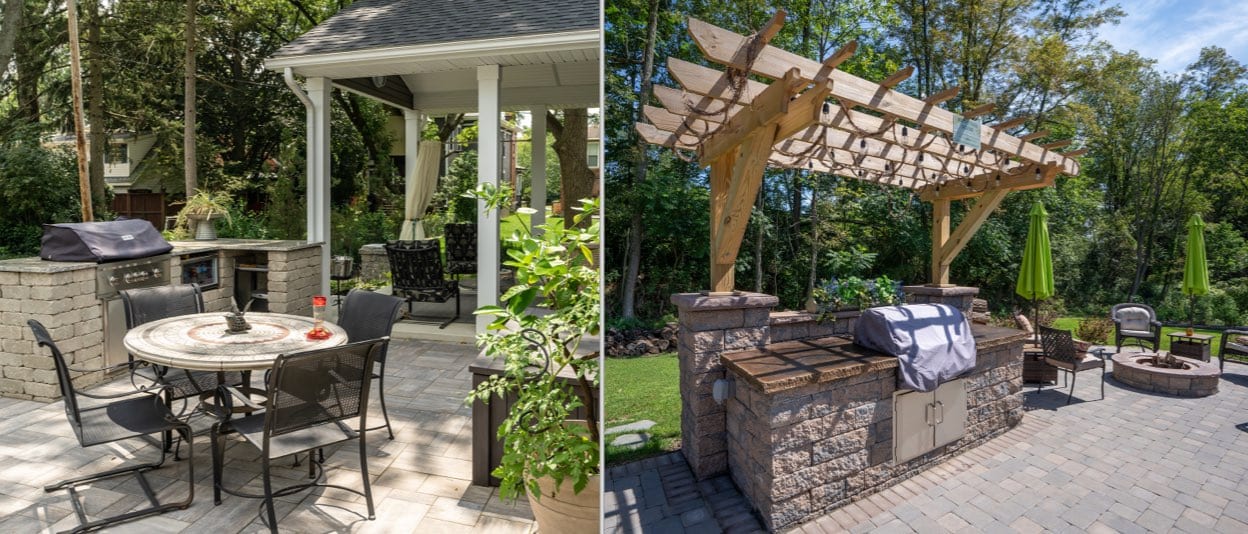 Try Al Fresco Dining in Your Backyard
The weather is starting to heat up, and we are ready to be outside enjoying that sunshine.
Although travel and in-restaurant dining are starting up again post COVID-19 pandemic, having a backyard retreat is still a top priority for homeowners. We've learned through all of this that if you've got to stay at home, it should be an oasis. The pandemic has really changed the way we spend our time outdoors. You can get those staycation vibes right at home with these tips for creating your perfect patio retreat that's perfect for al fresco dining.
Be sure to check out our Flickr album above for more visual inspiration!
Here are some of the most popular ways to create your own outdoor dining area when building your new home with Wayne:
Simple vs. Fully Functional: Before designing your outdoor space, decide what works for your lifestyle and budget. This will help your Wayne Homes design team guide you to the outdoor oasis that works best for you.
Permanent or Portable? Will your kitchen area be a permanent fixture or something you can move indoors when not in use? This will determine the building materials you'll use. Permanent outdoor kitchens will require the most durable materials.
What's Cooking? Consider which appliances you want: a grill, smoker, pizza oven–there are plenty of choices based on various cooking styles. Also consider a mini-fridge, kegerator, or ice maker, for your outdoor cooking/bar area. You may never dine out again!
Four Season Outdoor Space: When you build a covered concrete patio in your Wayne home, you can enjoy all four seasons outside (with the help of a fire pit in the winter, of course). When you are planning your Wayne home, discuss outdoor options. We can even build a cathedral ceiling on your back porch to give you even more vacation vibes.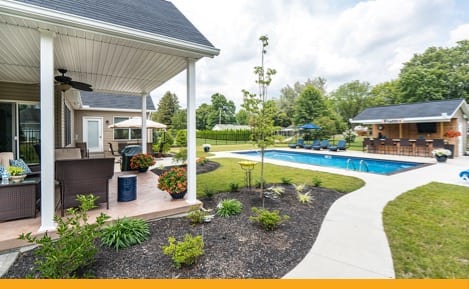 Here are some tips you can use now with your existing home or in your future Wayne home:
Try a stand-alone kitchen now, and upgrade to a built-in later. If you don't want to commit to a built-in kitchen just yet (because a new Wayne home is in your future) then decide if you want a grill, a smoker, a pizza oven, etc., and get a stand-alone version you can always work into a built-in kitchen later.
Pick the right spot for al fresco cooking/dining. Avoid spots that are windy, too hot, too shady, or cold. Consider locating your grill or kitchen under a cover or partial patio roof.
Be sure you have shade to enjoy your al fresco dining experience. Whether it's an awning or umbrella, adequate shade will make your outdoor dining experience more enjoyable. As a future upgrade, you could consider building a covered porch or a pergola if you don't already have one.
Easy clean-up. Use an indoor/outdoor rug that is low-pile and easy to clean under your outdoor dining table. This makes crumb clean-up as easy as quick sweep.
Lighting to set the mood. Nothing mimics a fancy restaurant better than mood lighting for your outdoor dining experience. String lights from the trees to your roof or use wood posts set in concrete to create your own custom string light setup. You can also try a chandelier or landscape lighting, and of course, don't forget the candles.
Music to bring the ambiance. Invest in a Bluetooth speaker to play your favorite tunes while you eat. A future investment may be an integrated sound system, but in the short term, a speaker should do the trick.
You don't need to actually getaway to experience a "getaway" in your own home. Use these tips to create a welcoming al fresco dining space that will quickly become your favorite place to eat.
Would you like to learn more about outdoor living and dining options with Wayne Homes? Drop us a line–we're looking forward to chatting with you!
---
About Wayne Homes
Wayne Homes is a custom homebuilder in Ohio, Pennsylvania, Michigan, and West Virginia (see all Model Home Centers). We offer more than 50 fully customizable floorplans and a team dedicated to providing the best experience in the home building industry. For more information, Ask Julie by Live Chat or call us at (866) 253-6807.
Disclaimer: The details of this blog are accurate as of the publish date, but are subject to change.