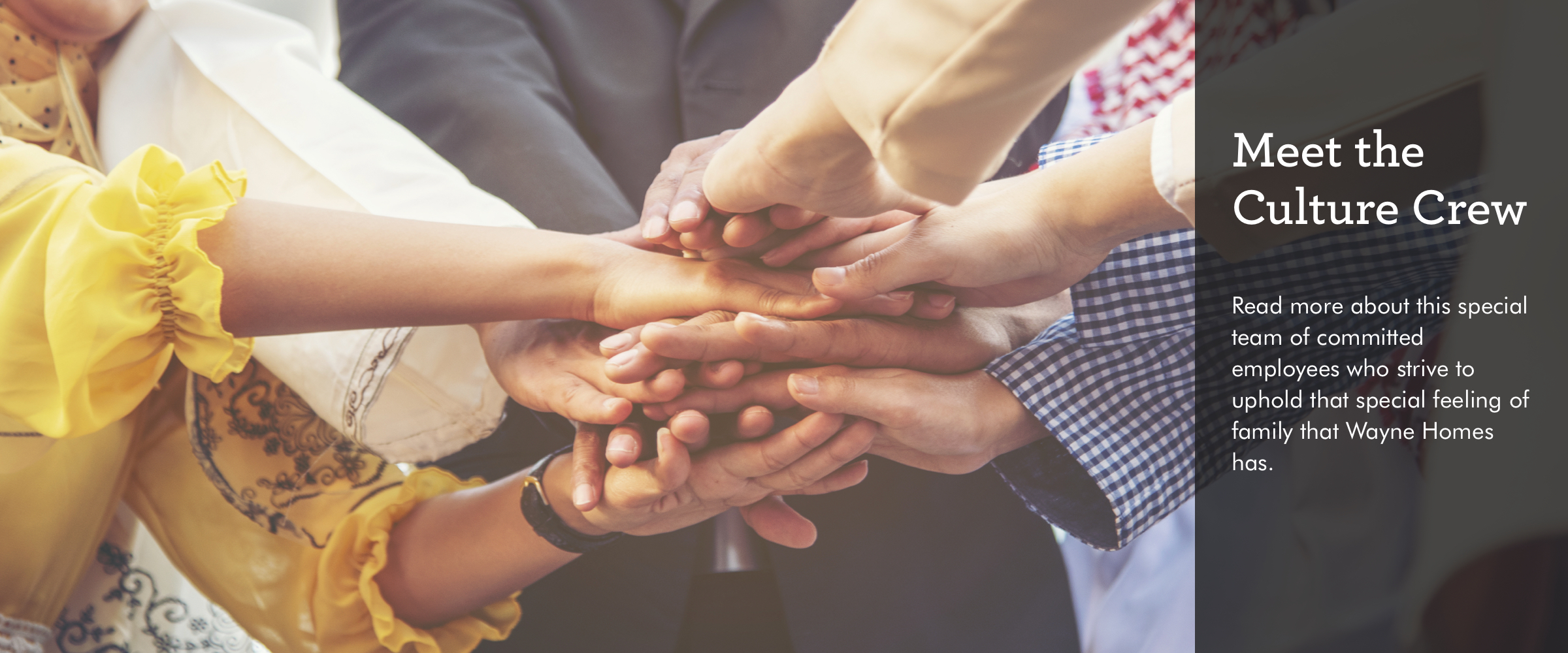 The culture at Wayne Homes is, without a doubt, very special. We love the feeling of family that Wayne Homes has. And it extends to our homeowners as well. The Wayne Homes family is something that we pride ourselves on, and because of that, we've got a special team of people who make sure the Wayne Homes family stays strong. We call it the "Culture Crew."
The Culture Crew is a group of committed, non-managerial employees, representing each office, who strive for continuous improvement in the internal and external customer experience.
Our Culture Crew is made of some incredible Wayne Homes employees:














Brittany Burkhart, one of the co-chairs of the Culture Crew, says, "Most of the time the Culture Crew members are the ones coming up with the ideas of things to discuss or work on. We honestly don't hear a lot directly from people outside of the crew. But I can say that a lot of the things we do have come from things our members have observed or heard from other teammates." The Culture Crew is always listening and taking notes to help create events and initiatives that will serve the company as a whole, as well as the larger Wayne Homes family.
The Culture Crew works on initiatives throughout the year to help make Wayne Homes a great place to work and to encourage service to colleagues, trade partners, and the community. Some of these include: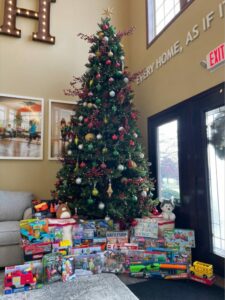 "Lunch & Learn" – seminars over lunch about various topics.
Planning Wayne Homes spirit week (themed days) coming up this spring.
Planning a "Random Acts of Kindness" challenge to encourage employees to utilize the 2 RAK PTO days the company provides.
Ideas for ways to acknowledge & celebrate excellence among employees.
There are "sub-crews" such as the Wellness Committee, which coordinates health initiatives for Wayne Homes. Here are just a few examples:
An upcoming company-side steps challenge.
Distributing a brochure with heart health tips.
Videos of healthy recipe ideas.
Kate Viscounte said she joined the Culture Crew because she knows the importance of loving where you work. "I decided to join the Culture Crew because I never truly knew what it meant to love the place you work at until I came to Wayne. I wanted to join so that I would be able to help make this work environment even better for all of the staff!"
Lauren Reihl says she loves being a part of the Culture Crew because of the connections it creates. "I joined culture crew to be a voice for our office as well as other New Home Consultants across the company. We represent the many positions and opinions of our employees and collaborate to continuously make Wayne Homes an even better place to work. I love being a part of the effort that we put into making sure that our employees feel valued, appreciated, and engaged. We get to help with events, fundraising/charity opportunities and come up with ways for our offices and employees to feel more connected to each other. I always feel like our voices are heard and our suggestions are put into action!"
Many of the initiatives Culture Crew works on are brainstormed by team members who are not part of the Culture Crew. Members work to bring these ideas to life. Some of these new ideas include: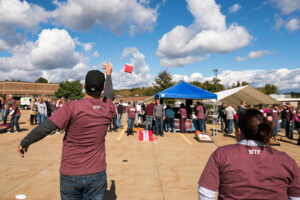 Spotlighting employees and doing things to get to know one another better.
Learning more about what other jobs are like and how we can work better together as a team by knowing what it is that others do and how my job affects theirs, etc.
Social events like lunches, Waynetoberfest, and parties.
Teambuilding challenges and opportunities.
RAK – doing more as a group and offering more opportunities for people to give back.
Developing an inventory of Waynewear.
Townhall meetings and helping to set expectations for communication between senior leadership and everyone else.
Showing and receiving appreciation.
We are so grateful for this group of dedicated Wayne Homes team members! Thank you for making Wayne Homes great, and for keeping our commitment to excellence.
Would you like to learn more about Wayne Homes? Contact us! We want to hear from you.
---
About Wayne Homes
Wayne Homes is a custom homebuilder in Ohio, Pennsylvania, Michigan, and West Virginia (see all Model Home Centers). We offer over 50 fully customizable floorplans and a team dedicated to providing the best experience in the home building industry. For more information, Ask Julie by Live Chat or call us at (866) 253-6807.
The details of this blog are accurate as of the publish date, but are subject to change.