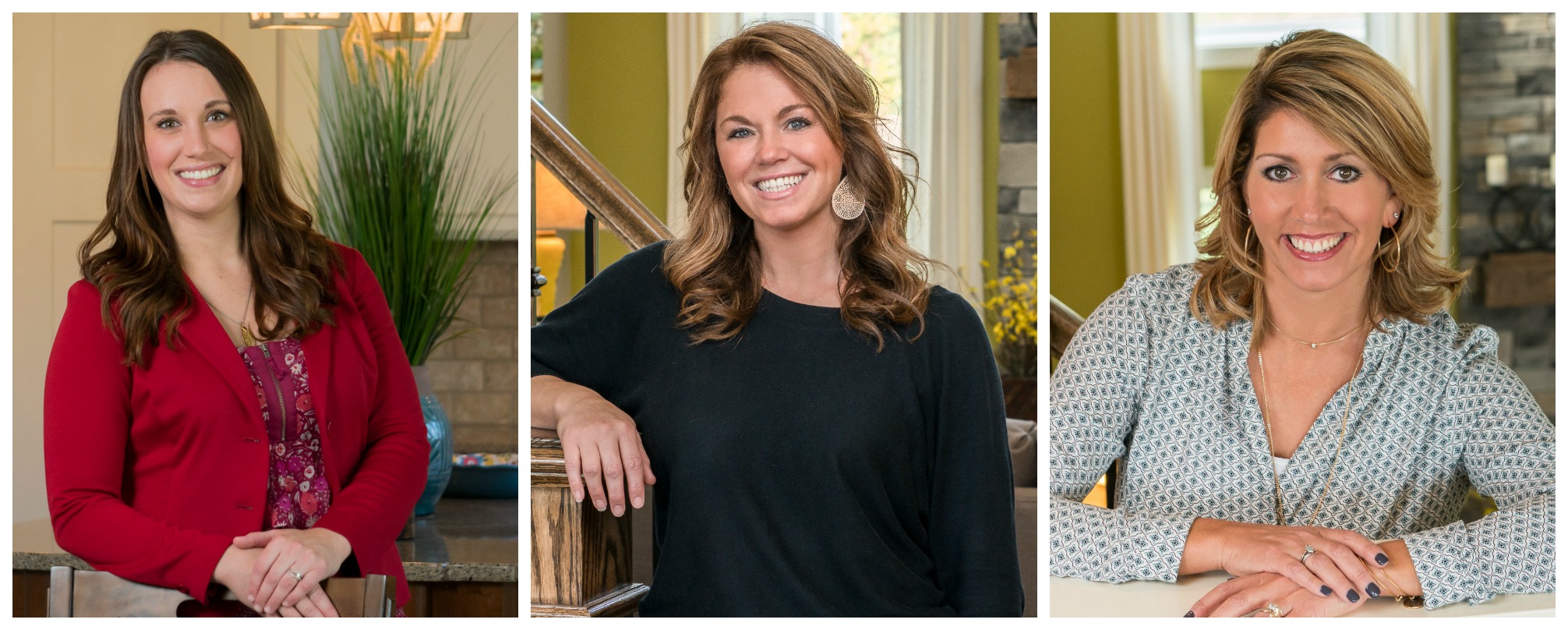 Meet the team at Bowling Green!
At Wayne Homes, we like to think of our entire company as one large family. We get together for company outings and gather with our "Raving Fans" as part of that family. That said, within our big family are some smaller ones, including our specific location-based families throughout our building area.
One such smaller, close-knit family is the team that makes up our Model/Sales Center in Bowling Green. That team is made up of a mixture of new home consultants, a design consultant and a Sales Manager. They help new homeowners navigate their way through the homebuilding process in a wide variety of ways, and tap into their professional expertise (speaking of expertise, one new home consultant on this team, Kristi Eynon, has been with Wayne for 18 years!) to ensure our customers have the best experience possible.
Today we're sharing some insight into two of these team members: Lisa Sidoti, the sales manager at Bowling Green, and Dana Huntley, a new home consultant.
What do you look forward to the most in your role with Wayne Homes?
Lisa: Elevating my team to success through motivating, coaching and strategizing. My role as it pertains to customers would be learning about them and helping them design a home that fits their needs as well as their wants, creating a comfortable place for them to call home.
Dana: I look forward to the moment a customer walks away with their Wayne Homes Binder. Usually, there is a smile on their face and a sense of relief. I feel good knowing my customer trusts me and Wayne Homes to build their dream home.
What makes you proud about working for Wayne Homes?
Lisa: Our core values and mission to create outstanding customer experiences
Dana: I am most proud to work for a builder who makes dreams come true. I think it shows great pride in our quality of work just by how long Wayne Homes has been in business.
How do you succeed in your role for Wayne Homes?
Lisa: Prioritizing, putting my team and sales initiatives first on the list. Following our processes and core values by always acting with integrity.
Dana: Doing what I say I am going to do for my customers. Making sure to bring joy and a sense of humor to each meeting.
What is your favorite floor plan? Why?
Lisa: My favorite floor plan is the Montgomery, because of versatility and extremely spacious great room.
Dana: The Columbia. I love the the Columbia because the kitchen is toward the front of the house and the dining room close to the front porch. I want to add French doors off the dining room to have more of an indoor/outdoor eating area in the summer time. Columbia is also the favorite floorplan I have sold.
What is your favorite model at your model center?
Lisa and Dana: The Covington
What are some of the ways you help people think through all the decisions that have to be made in regard to floor plans, customization, fixtures and so forth?
Lisa: Asking thought provoking questions, listening and providing expert advice. We have an experience staff here, our Design Consultant and one of our NHC's has been here 18 years.
Dana: When it comes to redesigns I usually just offer my input as I am drawing. I also let the customer know that if they don't like the changes I make; it won't hurt my feelings. I feel like that shows the customer confidence in my job and also promotes a sense of honesty in their opinions too. I usually let a customer lead a design center tour. I will always show them what is included, but ask them what they are looking for first.
Why should people visit your model center?
Lisa: Gorgeous models and a warm, friendly staff. They should visit because we put them and their experience 1st! Not only will we build an "award winning" quality home but we'll do our best to make it fun!
Dana: We have a great staff of knowledgeable people. We work great together that promotes an energized atmosphere. We also have 3 models that represent a ranch, 2 story, and split level. It is usually pretty easy for a customer to decide what kind of home they are looking for.
Why is Wayne Homes a good choice especially for people who've never built a home on their own land? In other words, what makes Wayne special?
Lisa: We have several key differences but for this I would focus on the expertise that they'll get. We know that most people don't know what's involved when it comes to building a home, they rely on us to be the experts and that's what they'll get here.
Dana: We have specialists every step of the way! We care about how our customers are treated and feel throughout the building process. Our communication internally shows throughout the build of a home for our customers.
Get to know Lisa, Dana, and the rest of the wonderful team at Bowling Green by stopping by or giving us a call!
About Wayne Homes
Wayne Homes is a custom homebuilder in Ohio, Pennsylvania, Indiana, Michigan, and West Virginia (see all Model Home Centers). We offer nearly 50 fully customizable floorplans and a team dedicated to providing the best experience in the home building industry. For more information, Ask Julie by Live Chat or call us at (866) 253-6807.