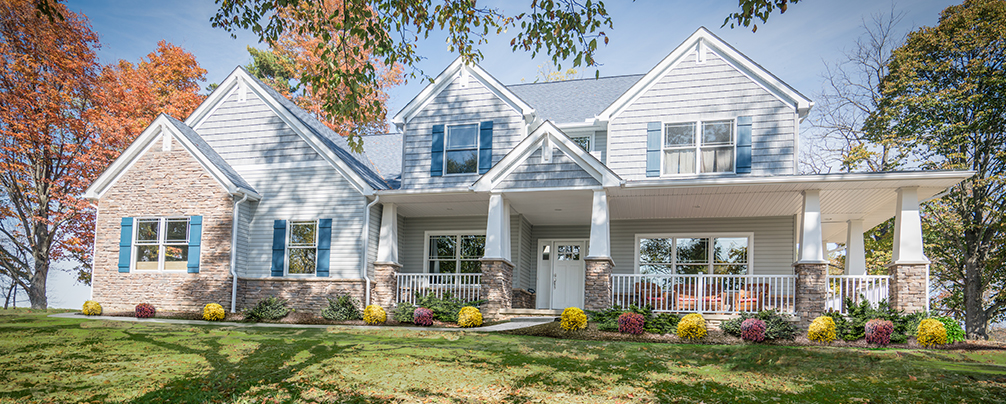 Our customers share their take on Wayne Homes
Most of the time, we use our blog to share information about home building trends, new floorplans, ideas for decorating or designing your own home, and other related topics. We've also shared stories about the families who choose to build with Wayne Homes, often times as part of our ongoing Raving Fans program and series.
Today, instead of telling you in our own words why Wayne is a builder you can trust, we thought we'd highlight some comments from our customers themselves. There's no substitute for actual customer testimonials, so we hope these comments – many of which speak to specific Wayne team members – give you a good feel for what it really means to work with Wayne!
"I am overwhelmed with the amount of knowledge, kindness, and compassion that Jeanette (Jeanette Lengyel – New Home Consultant – Belmont) had. She was someone who was not only personable, but loved her job and showed it. I was nervous about the whole idea of driving a long distance, just to be told our dream was not feasible, but I walked away knowing that it was something we could achieve, thanks to her!"
"Great experience start to finish. Timeline kept on schedule or better; he kept us well informed; and worked well with us when surprises popped up. Tim (Tim Jolly – Field Manager – Ashland) did a fantastic job and we would not hesitate to recommend him to anyone. He is an asset to your company."
"Our Field Manager, Anthony, (Anthony Groves – Field Manager – Bowling Green) always helped coordinate with us on our items for completion. We have very high standards and Anthony always delivered! He always went above and beyond helping us with tips for our projects and managing our project, even on vacation! When we build again, we will definitely be requesting Anthony."
"We love the fact that Wayne Homes let us customize the floorplan to get exactly what we wanted. Hilary (Hillary Barbuto – Sales Manager – Newark) in the sales office was awesome to work with. She went the extra mile to help us in our customizations."
"Chad (Chad Schandel – Field Manager – Portage) has made, and is making, this home building process a success. He listens to our needs, communicates great, and responds quickly to any questions we may have. We can't say enough good things about #WayneHomes and we're thankful to have Chad working for us."
"Jeremy (Jeremy Hill – New Home Consultant – Sandusky) was excellent in telling me what I needed and wanted to know. He asked me a lot of questions to zone in on what I was looking for. It was a very good experience."
"Best experience yet and I've dealt with a lot of builders. Julie (Julie Gnap – New Home Consultant – Akron-Medina) was extremely knowledgeable and very helpful."
No matter what Wayne office you chose to work with, you're sure to find some amazing professionals who will do whatever they can to ensure you see your home dreams come true!
About Wayne Homes
Wayne Homes is a custom homebuilder in Ohio, Pennsylvania, Indiana, Michigan, and West Virginia (see all Model Home Centers). We offer more than 40 fully customizable floorplans and a team dedicated to providing the best experience in the home building industry. For more information, Ask Julie by Live Chat or call us at (866) 253-6807.