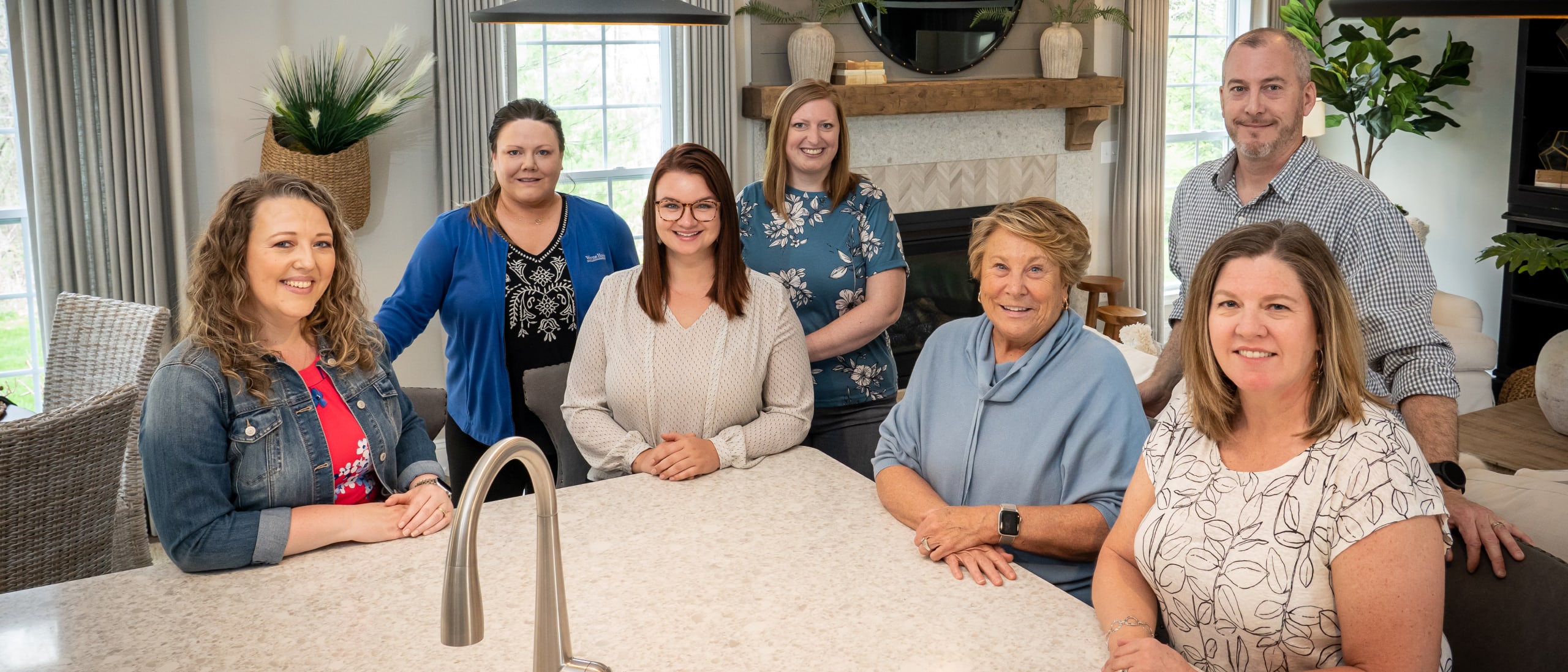 When you think about the home-building business and Wayne Homes, you probably envision construction professionals building the frame of a home, roofers putting the roof on, designers choosing tiles and fixtures, and skilled workers installing cabinets and floors.
What you probably don't think of are the individuals who work behind the scenes to share the Wayne Homes story, promote our business, and make connections with prospective and existing customers. Our Marketing Department does just that on a daily basis, finding and sharing the stories that make Wayne, well… Wayne! They work largely behind the scenes, but their work is crucial to the success of our team as a whole.
The Marketing Department are the folks who bring our Raving Fans stories to life.
They make sure our home maintenance tips are fresh and ready to go each quarter. And, they deliver the right information from the experts on the Wayne Homes team so you can make the best possible decisions when building a new home. So, if you've ever liked one of our posts on Facebook or read a blog (we know because you are right now!), then you've interacted with our marketing team's work. To give you a behind-the-scenes look at Wayne and how we operate, we want to share an insider peek at the marketing department here, and the people who keep things moving!
Wayne Homes Marketing Department:
Maurie Jones, Senior Vice President of Marketing
Julie Martinson, Executive Assistant
Emily Hayden, Marketing Manager
Megan Moncrief, Media Advertising Specialist and Design Center Coordinator
Teresa Whipkey, Marketing & Sales System Associate
Morgan Wagner, Marketing Communications Assistant
Steve Reidl, Photographer/Videographer
Maurie Jones is our Senior VP of Marketing, and she's been a Wayne Homes team member for more than 35 years!
Talk about dedication! Maurie is an incredible resource for everyone on the marketing team, with a wealth of knowledge and an extensive history at Wayne.
With more than 15 years of experience with Wayne Homes, Media Advertising Specialist & Design Center Coordinator Megan Moncrief also has a deep knowledge of what we do and uses it to work with agencies for print, media, and billboard placements. She works with other VPs within our team, including Maurie, as well as our VP of Purchasing and Product Development Manager in the process of implementing new products and selections. She also makes sure our design studios include the most up-to-date samples so our customers have the latest styles to choose from for their new homes.
Our Sales System & Builder Signal Assistant, Teresa Whipkey joined our Operations Department more than 20 years ago and moved to the marketing team over a decade ago.
She assists our sales team with the software that helps our customers purchase homes. She is also the administrator for Builder Signal, our helpful construction communication app. This is the program that our field managers use to upload photos of homes under construction for our homeowners. Again, Teresa makes sure our construction teams are well versed in using Builder Signal so our homeowners can enjoy photos of their homes being built.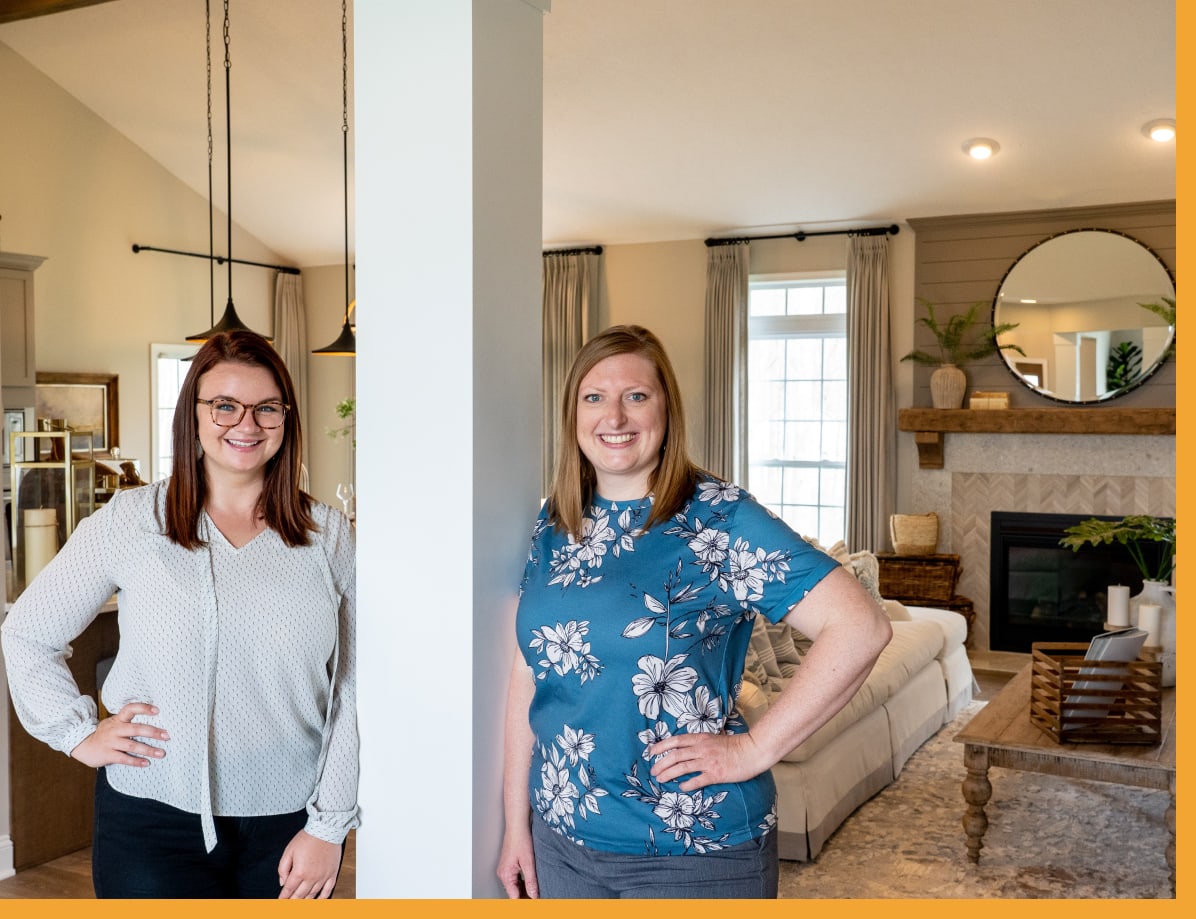 The newest members of our marketing team are Morgan Wagner, Marketing Communications Assistant, and Emily Hayden, our new Marketing Manager.
They may be new to the marketing department, but they certainly aren't new to Wayne Homes. You may recognize Morgan from her time as the Design Consultant at the Portage Model Center. Emily most recently worked at our Delaware Model Center as the Sales Manager and was previously the Design Consultant there. In fact, Emily originally started out at Wayne Homes as an intern with the Marketing Department when she was still in college! They both bring valuable experience from their time working at their respective sales offices, as well as a unique perspective on the needs of our customers. Morgan and Emily work with agencies on social media, website, and blog content, as well as managing our open house videos, Flickr albums, and special events.
The talented Photographer/Videographer Steve Reidl joined the team more than 7 years ago and does exactly what you'd imagine.
He captures our beautiful homes inside and out, and works with marketing and sales to craft attention-grabbing videos.
Last but not least is Julie Martinson. We say "not least" because, with almost 35 years at Wayne, Julie is a true fixture here!
She has previously worked as a receptionist and customer service coordinator. Now she's our Executive Assistant within the Marketing Department as well as coordinating all the meetings for Sales Managers, Design Consultants, and holiday events. She's the go-to person for any employee as to where to find something or who to check with when a question arises. She truly keeps everything moving!
This team of professionals helps craft the Wayne Homes image and brand, and as such, is an invaluable part of our team. Each brings their own special talents and skills, and we're lucky to have them. We hope you enjoyed meeting them!
Do you have a question or suggestion for our marketing team? Contact us! We will be sure to get an answer or forward on your feedback.
---
About Wayne Homes
Wayne Homes is a custom homebuilder in Ohio, Pennsylvania, Michigan, and West Virginia (see all Model Home Centers). We offer over 50 fully customizable floorplans and a team dedicated to providing the best experience in the home building industry. For more information, Ask Julie by Live Chat or call us at (866) 253-6807.
*The details of this blog are accurate as of the publish date but are subject to change.