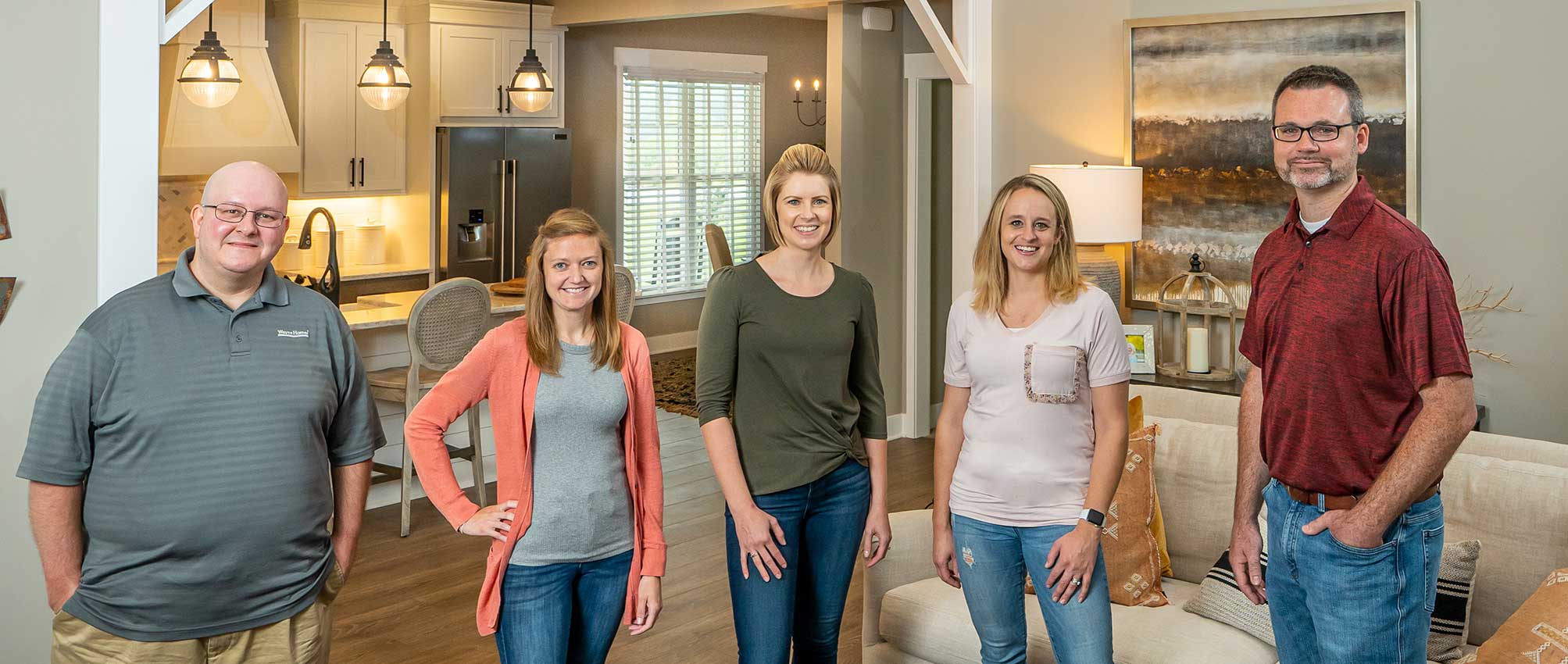 Meet the Team: Product Development
At Wayne Homes, we're proud of the team we've built. We hire experts who are genuinely good people that love what they do and want to help others build their dream homes. We're so proud that we just can't keep it to ourselves. We'd like to introduce you to our Product Development team.
When we say Product Development, what we mean is our homes. Our Product Development team develops floor plans. Whether that's creating a new home plan from scratch or modifying an existing floor plan to incorporate some of our most popular home features, this is the team that is responsible for it. Pretty cool stuff!
We've spent over 40 years perfecting the way we design, customize and build our homes. And with more than 50 fully customizable floor plans, it's no wonder we need a dedicated team to keep rolling out the newest and best plans.
Ben Vogel – Product Development Manager
Ben has been with Wayne Homes for 18 years – 8 as an Estimator, 3 as an Estimating Manager, and 7 as a Product Development Manager.
Key duties include:
Manage the project schedules to ensure all details are addressed and that affected systems are updated
Get answers to questions on project goals or product specifications
Ben's favorite home he has developed for Wayne is the Columbia. "It has been a great seller and has an exterior with an enormous front porch." Ben prefers the Craftsman exterior because it, "gives you the opportunity to use multiple exterior materials (stone, siding, shake, etc.)."
Megan Brannan – Product Designer III
Megan has been with Wayne Homes for 8 years as a Design Consultant, a CAD Drafter, then as a Product Designer. Megan designs new floor plans, updates existing floor plans, maintains standard prints, and designs/updates model homes. "The Anderson has probably been my favorite home I've helped develop so far. It's a large home so it gave me a lot of options to play with. The dual owner suites allow for a private get-away for parents of older kids, an in-law suite option for those who have family living with them, or an awesome playroom for those with kids that need an extra play space with a door to hide all the toys. The kitchen/great room is great for entertaining. The upstairs main bathroom allows for those with multiple kids to get ready at the same time (something I wish I had with my 3 siblings growing up!)."
Megan's favorite sources of inspiration:
Builder magazines
HGTV
Pinterest
Instagram
Kaitlin Haugh – Product Designer III
Kaitlin has been with Wayne Homes since July 2013 (8 years). She started in the CAD department and then moved to Product Development in 2015. As part of the Product Development team, we create new floor plans and come up with base houses for our customers to build their dream homes off of. We come up with designs that allow Wayne Homes to have many options of standard floor plans for our homeowners and for them to be able to make them customized to their needs. Kaitlin's favorite floorplan is the Wellington. "I love that it has plenty of rooms for kid bedrooms or a playroom. As a mom of young kids, this is something important to me. The floor plan offers an open layout but keeps the bedrooms private. Honestly, there isn't anything I don't like about this floor plan." Kaitlin loves working at Wayne Homes because of her great team and because she gets to design homes for people to make their dream homes. In her words, "It's an awesome job!"
Brittany Burkhart – Product Designer IV
Brittany has been with Wayne for 9 years. She worked in the CAD department for a little over 3 years before she came to Product Development. Brittany shared that, "Lately, I've been working a lot on our newer virtual design elements like the virtual tours and exterior visualizer. This has been a fun change of pace for me, but typically I would work on designing new floor plans, exteriors, or models." Brittany also works closely with our interior designers and our Senior VP of Marketing on refreshing existing models.
Brittany's favorites:
Favorite home I've developed: The Columbia

"I designed the Columbia with our first ever Farmhouse Elevation and with that in mind, tailored the floorplan to fit that modern farmhouse style feel with the centralized kitchen and open floor plan. Seeing it become a model was like the icing on the cake for me."

Favorite Wayne floor plan: The Hudson.

"The Hudson just has everything I'd want. I've always wanted just one large dining space in my home and the Hudson delivers on that. I also love the huge walk-in pantry and the fact that there is a half bath and jack and jill bath for the kids, that way my guests don't have to see my kids' messy bathroom! And who wouldn't want two walk-in closets in the owner suite?! There are too many reasons to list why I love it!"
Mike Simms – Product Development Coordinator
Mike has been with Wayne Homes for 22 years. Most of those years have been in Estimating or some extension of that department. Mike's role in Product Development is to help implement new plans and products across the company. "I create base estimates and/or options for Estimating and Sales for cost. I also input and maintain options in Sales Simplicity and maintain numerous CAD, Estimating and Sales tools that are used."
Mike's favorites:
Favorite floor plan: The Anderson. "I really like the secondary owner suite along with the open floor plan. I love how versatile this home can be."
Favorite elevation: Waterfront. "It seems to be the best of all worlds. It gives you that cottage feel that I love."
Favorite interior: The Farmhouse. "It brings a warm and cozy feel to your home. I think of family when I see this style in a home."
Favorite model home: "I really like the Newark Brentwood Farmhouse model with the cathedral ceiling with shiplap and the ceiling beams. The natural light from the skylights just gives it a wonderful feel."
There you have it, straight from the experts! Thank you to our amazing Product Development team for sharing a little about themselves and your favorite floor plans.
If you're inspired to design your own home, then give us a call! We can't wait to help you customize one of our floor plans to be exactly what you want.
About Wayne Homes
Wayne Homes is a custom homebuilder in Ohio, Pennsylvania, Michigan, and West Virginia (see all Model Home Centers). We offer more than 50 fully customizable floorplans and a team dedicated to providing the best experience in the home building industry. For more information, Ask Julie by Live Chat or call us at (866) 253-6807.