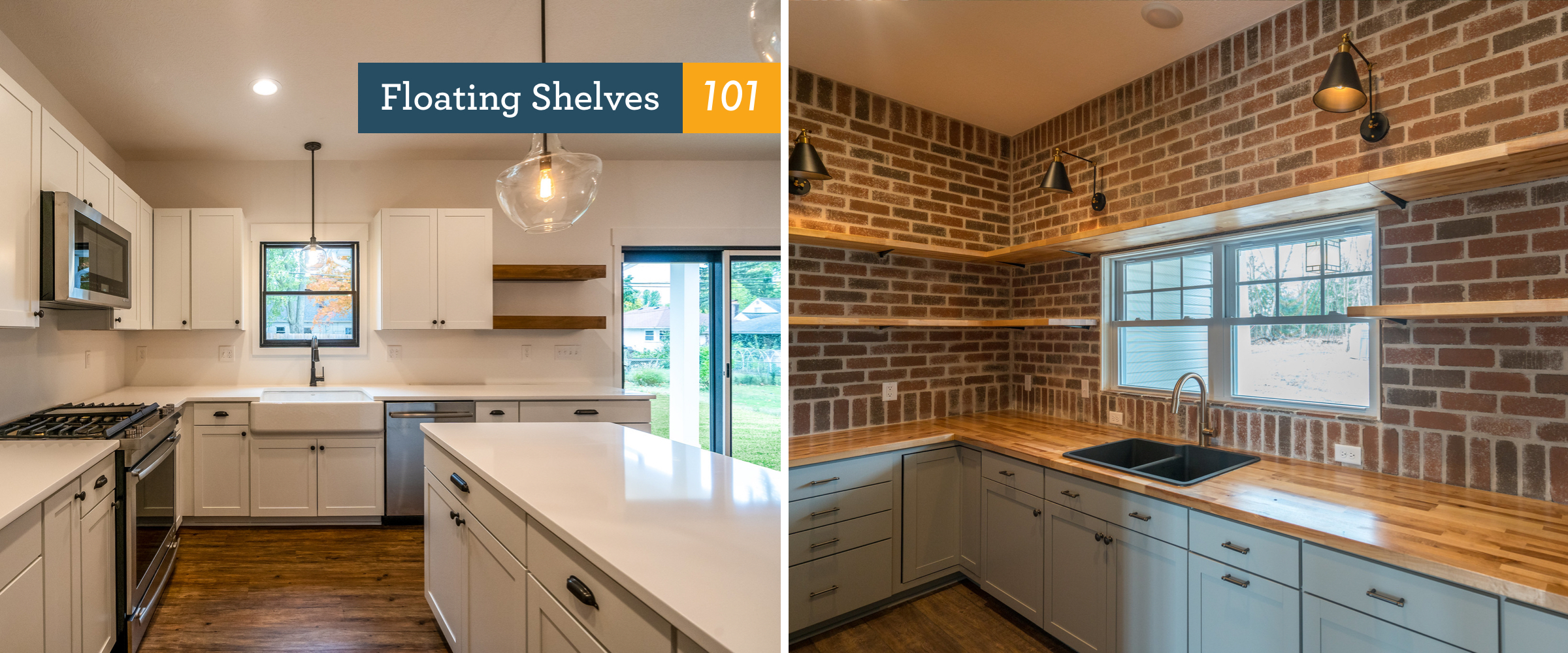 You've probably seen floating shelves in kitchen remodel inspiration pictures and wondered how they might look in your own kitchen. A floating shelf is a shelf attached to a wall with no visible means of support. The hardware to attach and support the shelf is hidden.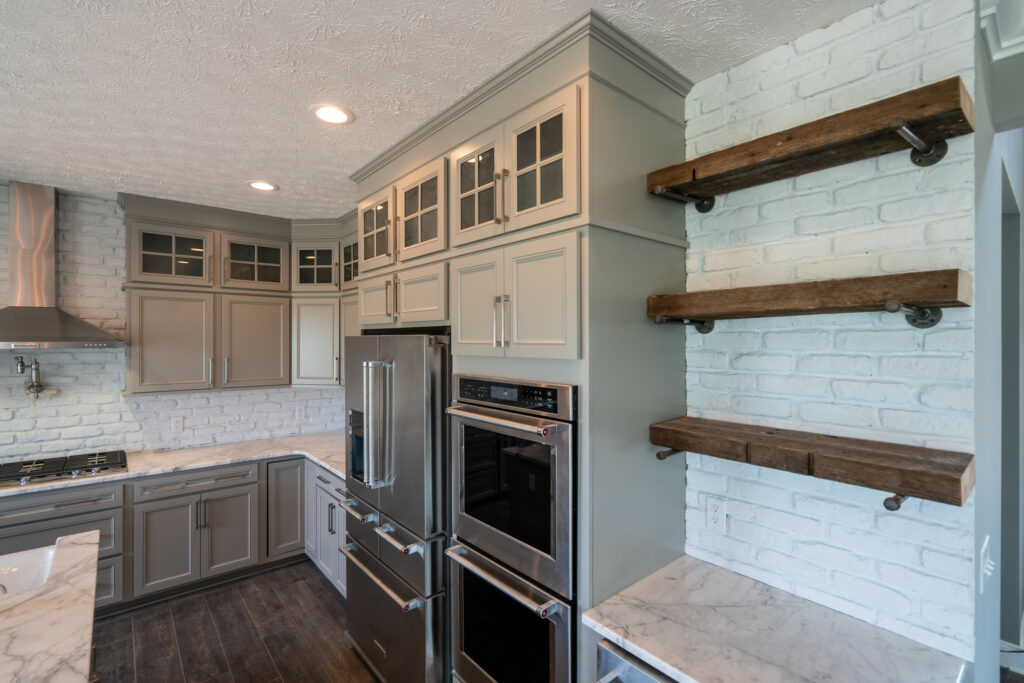 Open shelving in lieu of upper cabinets has become a popular choice in homes lately, especially in kitchens. Their popularity has grown for a few reasons:
Grab and go storage: For those kitchen essentials that you use often, a floating shelf is an ideal spot to store them. Simply grab and go!
Display your best work: Maybe you have some beloved artwork or beautiful plates or glasses that you'd like to display? A floating shelf puts them front and center, creating a focal point in your kitchen.
Easier to install than cabinets: Ready to DIY? Installing some floating shelves is a more entry-level task than installing full kitchen cabinets. If you're up for the challenge, try this one. Or, call in the pros.
Gives a light and airy look: Open shelving delivers a light and airy look to your kitchen because they are exactly that: open! With an open look, you free up more wall space, creating a kitchen that appears larger.
There's no denying it–it is more convenient to store items you use frequently on the shelf rather than piling them in cabinets. Floating shelves have a simple yet functional design and they can be very useful in virtually every room but are most often seen in kitchens or next to fireplaces. These shelves provide more storage space in places where it would otherwise not be possible to store items.
Here are some of the best rooms to use floating shelves:
Laundry room: Your laundry room is a prime example of a place where you want easy grab-and-go access to all your laundry needs. Try putting small baskets on your floating shelves to house detergent, fabric softener, etc.
Kitchen: As discussed, if you want an open, airy kitchen, then floating shelves are a great addition. Try replacing a few of your upper cabinets with floating shelves on either side of a window.
Bathroom: If you have limited space, but need storage, some open shelves above your toilet or in a nook close to the tub or shower can be very efficient storage.
Living Room/Den: A beautiful addition to any den or living room, floating shelves look particularly good flanking a fireplace. Try two or three on either side of your hearth and enjoy styling these to complement the decor of the room.
Office: Books, reference materials, pens, calendars are more can be easily stored on a floating shelf in the office. Try getting some decorative bookends or office organizers to keep everything in its place, and looking gorgeous.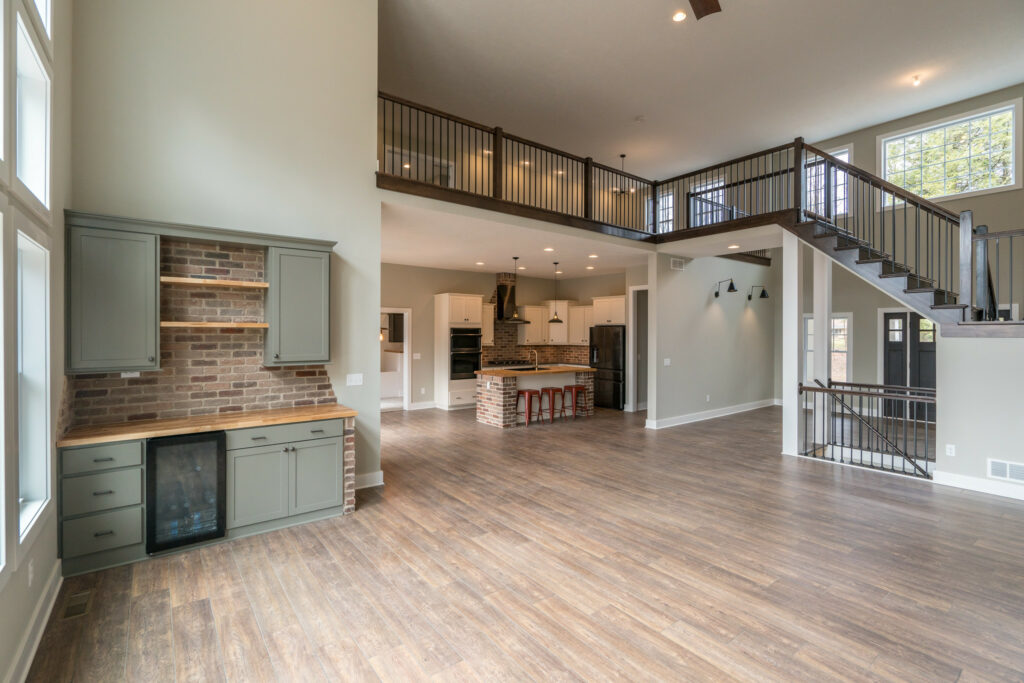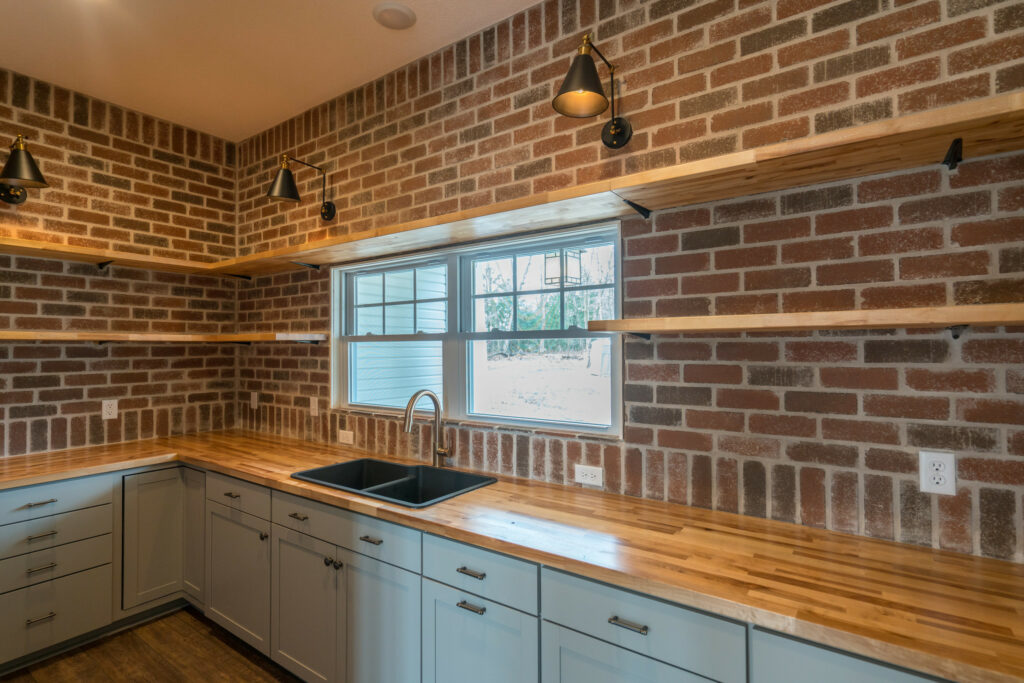 Are you ready to add some floating shelves to your home? Here's some inspiration to get started:
Did you know that you can add pictures from Flickr to your own Pinterest boards?
Simply visit the Wayne Homes Flickr page.
Find the images you want to add to Pinterest.
Click the share button, then select the Pinterest icon.
This is a wonderful way to gather visual inspiration in an organized way that you can share with us when you're ready to build your own Wayne home.
Would you like to design a new home with a light, airy kitchen? Contact us! Our design team can show you how to incorporate trends into your home in a way that's uniquely yours.
---
About Wayne Homes
Wayne Homes is a custom homebuilder in Ohio, Pennsylvania, Michigan, and West Virginia (see all Model Home Centers). We offer more than 50 fully customizable floorplans and a team dedicated to providing the best experience in the home building industry. For more information, Ask Julie by Live Chat or call us at (866) 253-6807.
Disclaimer: The details of this blog are accurate as of the publish date, but are subject to change.