Farmhouse exteriors bring the charm
Timeless. Quietly elegant.
Evocative of time-honored Midwestern craftsmanship, with classic materials such as shiplap and board-and-batten. And given just the right amount of detail. Like large window frames, awnings, soffit returns, and porch-post brackets. The classic white farmhouse feels like part of the landscape in every season.
The front porch is classic Americana. It's architecture that can easily be pulled around the house and inside. Think: skirt sink and white cabinets in the kitchen.
But the new Wayne Homes Farmhouse exteriors are not just ornamentation. We've rethought scale and proportions, rightsizing the Farmhouse for modern families. So you get bigger closets, more bathrooms, and the latest in energy-efficiency.
These farmhouses don't come with barns but your kids will still want a pony.
---
View our new Farmhouse exteriors:
3

beds

2

baths

2163

sq ft

2

car garage
View

3

beds

2.5

baths

2176

sq ft

2

car garage
View
3

beds

2

baths

1583

sq ft

2

car garage
View
×
Email Samples and Frequency
We hate a clogged inbox as much as anybody, so we only send out emails when we really have something good to share, such as new model previews, exclusive open houses, or invitation-only events.
You can expect to get about 1-2 emails per month, and can opt out at any time.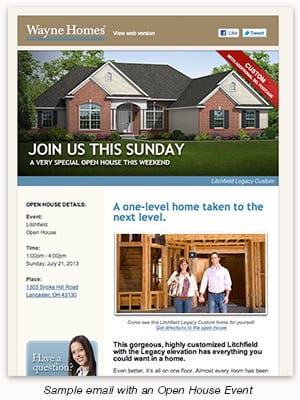 ×
We take your privacy very seriously
We don't believe in purchasing or selling personal information, so you can rest assured that the info you provide us, stays with us (and those who represent us). We will only use it to send you relevant communication.
If you'd like to read through all the fine print, feel free to check out our full Privacy Policy.
Better Business Bureau Accredited Business
Builder Top 100
Proudly Building Homes Since 1973